We offer the following products for sale.
Cash or check only at delivery. $50.00 returned check fee
We discontinued credit card services!  
Multiple pick up and delivery/ shipping options are available.
---
---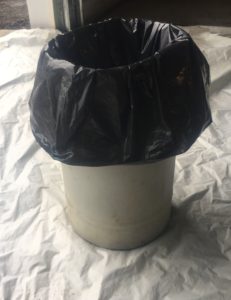 Trash can liners that are 50% recycled content. These are made at one of the manufacturers that buys a large amount of ag plastics from us. Case of 100 bags. Discounts for over 10 case orders are available.
31″ tall 1.1 mil 13 gallon kitchen bag 200 ct 4 rolls 
39″ tall 1.6 mil 20 gallon 100 ct 3 bundles 
39″ tall 1.6 mil 20 gallon 100 ct 10 rolls 
46″ tall 1.6 mil 32 gallon 100 ct 3 bundles 
46″ tall 1.6 mil 32 gallon 100 ct 10 rolls 
53″ tall 1.8 mil 55 gallon 100 ct 10 roll 
55″ tall 1.8 mil 55 gallon 100 ct 10 roll 
58″ tall 1.8 mil 55 gallon 100 ct 3 rolls 
58″ tall 1.8 mil 55 gallon 100 ct 10 rolls 
58″ tall bag 3 mil 55 gallon  contractor 
2 mil thick clear virgin plastic liners in same sizes 
ask for pricing
---