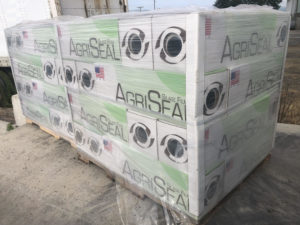 UPDATE: We no longer carry bale wrap!! We discontinued it last winter before the Texas freeze that sent plastic supplies into chaos.
The 30″ x 5,000′ rolls are available individually or by the pallet of 24 rolls. Discounts are available, see the new products tab for information. They make a 20″ roll but we do not plan to stock it unless there is a demand for it. If you would like it, please contact us for pricing and availability. Norflex, a family owned company, is located in Wisconsin. The owner has a farm that he routinely tests their products on so they know that their products will do the job! How many of the competitors can say they use it themselves?
Like Norflex, the owner of Ag Plastic Solutions LLC uses it on his farm after frustrations with using lower cost, or sometimes comparable appearing products that simply didn't hold up. Those undesirable traits include:
-pin holes
-green mold layer around the outside
-wrap edge curling
-unwanted unwrapping of stored bales while removing bales to feed
-tails during bale transport
If you have these same issues, consider trying a few rolls of AgriSeal! You put the expense and time into planting, growing, mowing, raking/merging, baling, hauling bales, and wrapping your crop, probably trying to beat that approaching storm. Shouldn't you be able to feed all of the crop with minimal loss and headache? Try AgriSeal this year and let us know what you think! We want to hear from you!
Click the link below for a PDF brochure from Norflex