We are now working with ACRC (Ag Container Recycling Council) to facilitate recycling along the East coast for rigid HDPE plastic agricultural containers. Funding from the ACRC allows us to provide a free container collection service to the following states:
CT, DE, MA, ME, MD, NH, NY, RI, VA, VT, WV.
NOTE: PA and NJ each have their own state sponsored program, for information about recycling containers in those states go to the websites below.
The Recycling program through ACRC accepts rigid high-density polyethylene (HDPE) 55-gallon containers and smaller, that previously held products utilized in agricultural crop protection, animal health, specialty pest control, micronutrient, biologicals, fertilizer, and adjuvant products.
Properly prepared and rinsed containers are vital to the success of the collection program. Containers must be triple rinsed and free of any remaining liquid residue and dried flaky residue around the opening/handle.
Stained, but rinsed containers are acceptable. Unacceptable containers will be rejected at the collection site. For more information on recycling, proper rinsing techniques, and eligible containers check out this information here.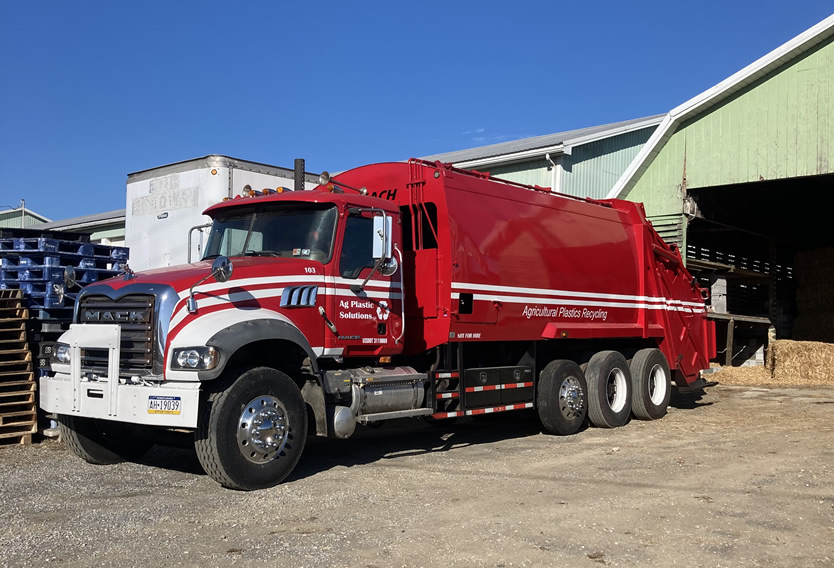 Our Collection crew collects triple rinsed jugs into this compactor truck and brings them back to our facility where we can process them for use in certified end use products, such as:
Agricultural Drain pipe
Cinder blocks
Fence Posts
Nursery Pots
Some of the ways our collection sites store their jugs until collection.

Interested in becoming a collection site or to ask about our collection schedule?
Please email info@agplasticsolutions.com
For more information about the Ag Container Recycling Council visit their website.